Nothing brings out the zest of a gourmet's palate like an exquisite plate of fresh pasta. There's a certain magic in the fusion of sea flavours, particularly when paired with the velvety texture of fresh tagliatelle. Today, we delve into an enticing culinary journey featuring 'Fresh Tagliatelle with Bonito, Prawns, and Basil Cream', a recipe that seamlessly merges Italian tradition with seafood extravagance.
Fresh Tagliatelle with Bonito, Prawns and Basil Cream Recipe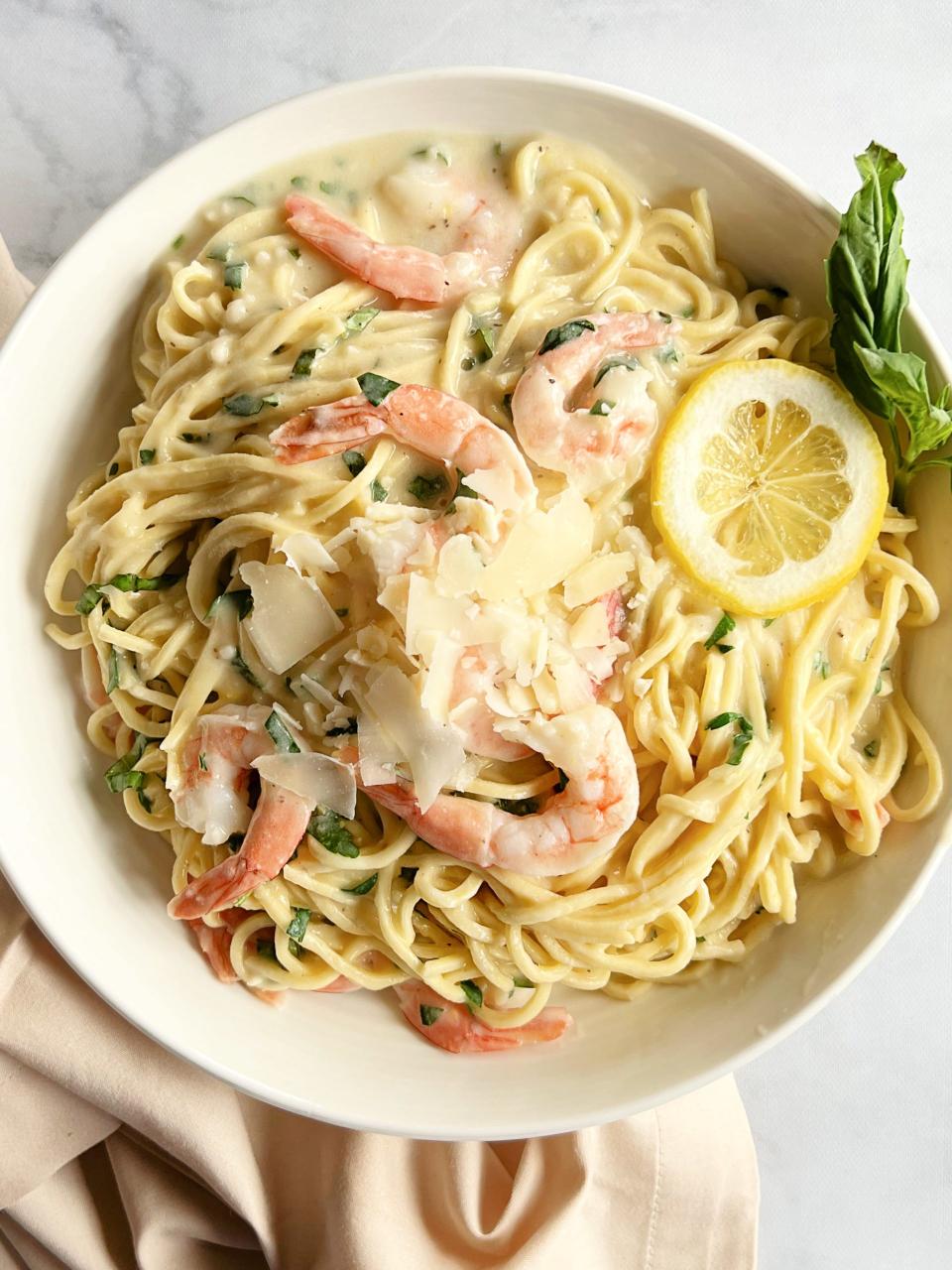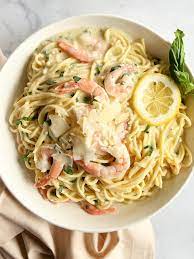 Fresh tagliatelle with Bonito, prawns and basil cream
Playing with fish, shellfish and eggs we can create wonderful recipes: this is among all the one that we prefer. The result depends without doubt on the quality of all the ingredients. A dish which can be realized with a little patience.
Ingredients
For the fresh pasta

4

eggs

400

gr

of flour 00

For the bisque

The head and the carapace of the prawns

1

carrot

1

shallot

A piece of celery

A parsley stalk

Extra virgin olive oil

Half of a small glass brandy

A teaspoon of paprika

A little piece of cannella

Salt

pepper, half of a hot chili

For the bonito and

prawns sauce

300

gr

of fresh bonito

9 to 10

fresh prawns

1

shallot

Half of a glass white wine

Extra virgin olive oil

A tablespoon of minced parsley

Salt

pepper
Instructions
For the fresh pasta
Arrange the flour on a pastry board, break the eggs inside, beat them with a fork and slowly incorporate the flour until it is all absorbed (you can also do it in a bowl at the beginning). Knead the dough until it is homogeneous and elastic then cover with a film and let it rest for half an hour.

It's time to roll out the dough. Divide it into 4 parts. Let's take one and cover the others again so that they don't dry out. Flour the dough and start passing it into the machine with the lowest number. When it comes out, fold it in two or three and pass it over in the machine, this serves to give compactness to the dough.

Continue until we have a medium thin sheet (until about n. 5 of the pastry machine), eventually cutting it halfway so that it is not excessively long. You can also work the dough manually but you must be "very" careful in considering the thickness: tagliatelle with fish sauce must be a kind of rough and thin, but not too much.This depends a lot from you and your personal taste: in any case fresh pasta with fish must be very "al dente", so consider this point also while cooking it.

If you do not want to make fresh tagliatelle, you can also consider other pasta such as rigatoni and half rigatoni, which can be suitable for this recipe.
For the bisque
First of all clean the prawns, separating the heads from the body and then, take the pulp away from the carapace that you will put aside together with the heads.

After this operation chop the carrot, the celery and the shallot very finely and put them aside.

Take a clay pot if possible, put the flame spreader between it and the flame and turn the heat on. If you do not have a clay pot you can use a stainless steel pot.

Add extra virgin olive oil and when it starts to fry, add the minced vegetables together with the parsley stalk. After a minute about add the prawns carapace and heads and smash them with a spoon or a fork so that all the flavor of the sea and of the fish is released.

Let them fry without browning them too much otherwise your bisque will taste "burnt" and at this point add the brandy. Flame the brandy paying attention not to burn your hands.

When brandy has evaporated, add salt, hot chili, paprika . Continue mixing the carapace and heads for a while and then cover. If necessary add some little water but not too much. Lei it cook for about 20 to 30 minutes then turn the heat off.

Put all in a mixer and mince. Then take a very thin colander and helping yourself with a spoon or a spatula, let the liquid of the bisque flow into a bowl: it must result homogeneous.

Put the bisque in a pan again, add cannella, some more pepper or chili if needed and let it reduce till a good consistency without burning it out.
For the sauce
Wash the bonito slice, remove the skin and cut it into small pieces, paying attention to the fish bones.

Take the prawns, wash them too and clean them from the intestines (to do this operation you must cut the upper part in a longitudinal way and pull out the dark thin line you see, this is the intestine).
Live 1 prawn aside for each portion and decoration.
Take a large pan, add extra virgin olive oil, the cut shallot , let it fry for half a minute with a medium heat on and then add the fish and the prawns. Let them fry for a while, raise the heat, add the wine and let it evaporate.

Add just a little salt and pepper, the fresh minced parsley and the bisque you had prepared before. Let it cook till every thing is well blended, cover and put aside.

Prepare the basil with a mixer, adding a good amount of fresh basil leaves and some water and pepper. Mix it till it becomes very fluffy and put it aside.

Bring the pasta water to boil in a high – sided pot; when it's ready, add salt and tagliatelle. Let them cook for no more than 2 minutes and then, helping you with a slotted spoon, transfer the tagliatelle in the sauce pan. Turn the heat on and whisk the pasta.

Prepare your dish serving the pasta with some more bisque aside, the basil preparation and the prawns.
Video
About Fresh Tagliatelle with Bonito, Prawns and Basil Cream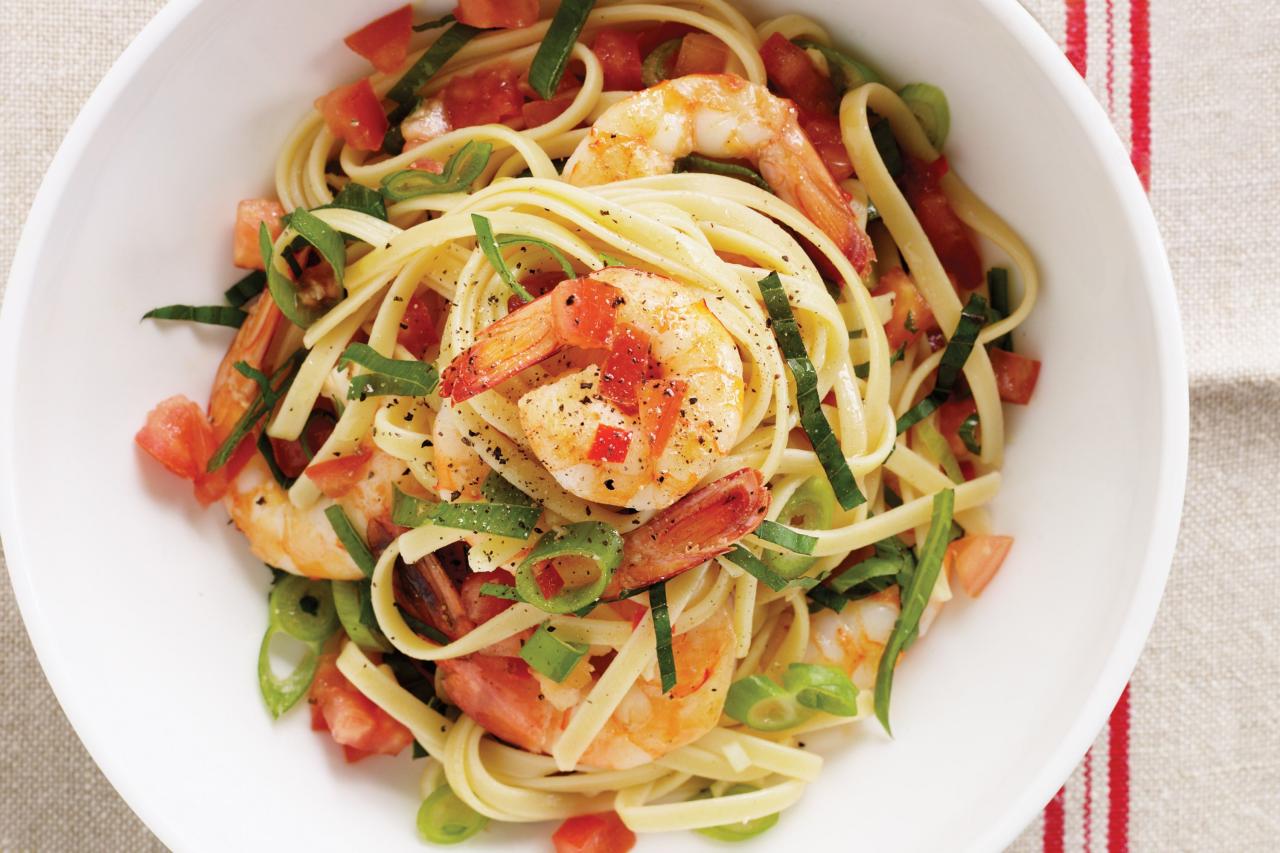 This scrumptious dish takes you on a gastronomic voyage to coastal Italy, where the flavours of the sea are lovingly paired with fresh herbs and pasta. The star ingredients – bonito, a fast-swimming fish with a unique, full-bodied flavour, and prawns, known for their sweet, succulent taste – are enrobed in a rich basil cream sauce. The basil, with its peppery undertones, provides the perfect counterbalance to the briny savour of the seafood.
Cooking Tips
Always use fresh seafood. It makes a world of difference in terms of taste and texture.
When making your basil cream, ensure your basil leaves are fresh and green.
Cook your tagliatelle al dente. This gives it a firm texture that pairs well with the creamy sauce.
Do not overcook the prawns; they can become tough and lose their natural sweetness.
Adjust seasoning as per taste. Bonito has a bold flavour that may need balancing with additional seasonings.
Serving Suggestions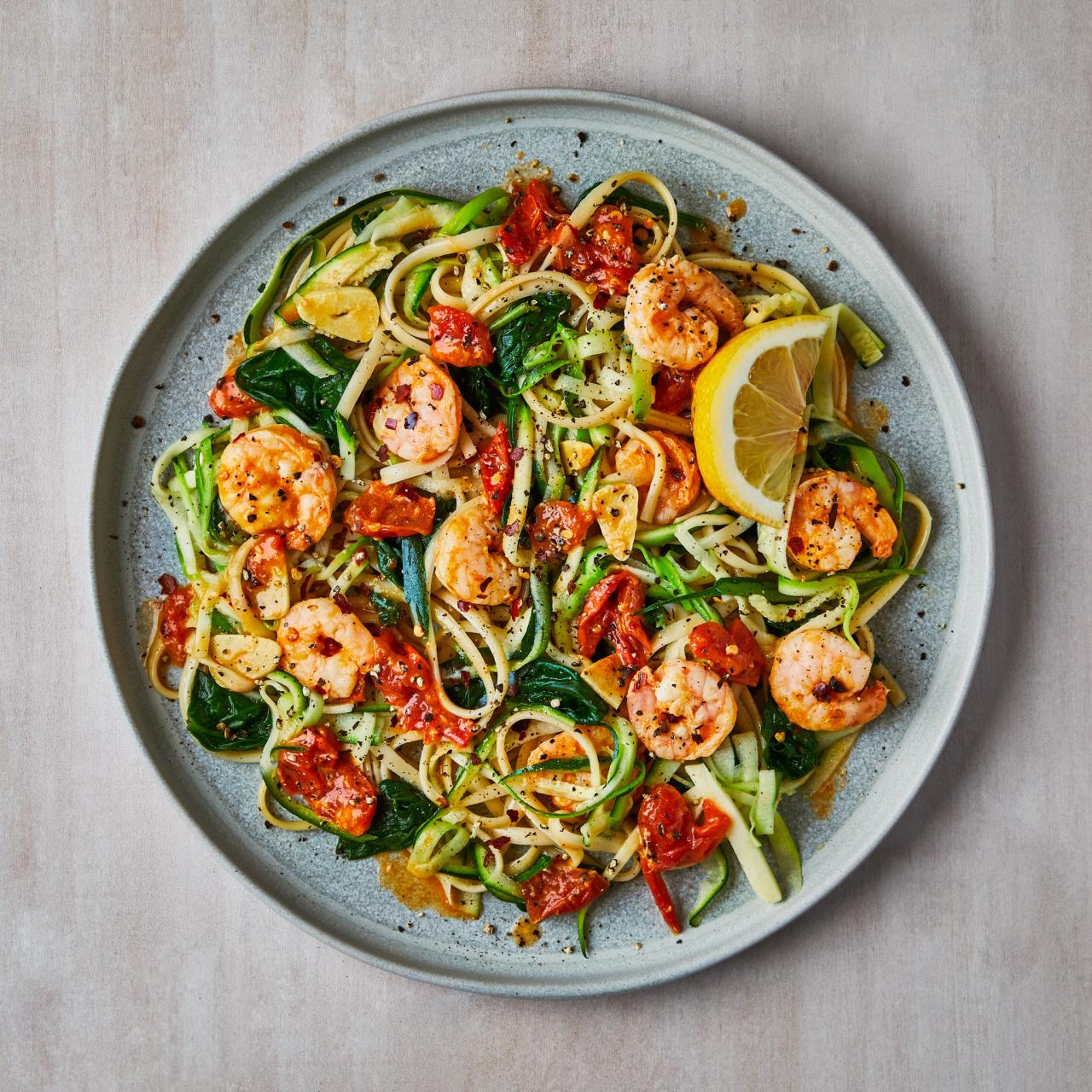 Serve hot, garnished with fresh basil leaves for added aroma and aesthetic appeal.
Accompany with a glass of chilled white wine – a Pinot Grigio or a Sauvignon Blanc pairs exceptionally well.
A side of garlic bread would complement the creamy texture of the dish.
A simple green salad with a tangy vinaigrette can provide a refreshing contrast.
For dessert, consider a light sorbet or a slice of lemon tart to balance the richness of the meal.
FAQs
Can I use dried tagliatelle instead of fresh? Absolutely, though bear in mind that dried pasta takes longer to cook and has a different texture.
What other fish can I use if bonito is not available? Tuna or mackerel could be suitable alternatives due to their similarly robust flavours.
Can I make this dish ahead of time? It's best served immediately, but you can prepare the basil cream sauce in advance.
Is there a dairy-free option for the basil cream sauce? Yes, you can use a blend of soaked cashews and water for a creamy, dairy-free alternative.
Can I use frozen prawns? Yes, but ensure they are thoroughly defrosted before cooking.
This 'Fresh Tagliatelle with Bonito, Prawns and Basil Cream' recipe provides an exceptional culinary experience, merging the freshness of the sea with aromatic herbs and luscious cream. Whether you're a seasoned chef or a home cook looking to explore new flavours, this dish promises a taste of coastal Italy in every bite.